Feb. 8, 2013, 10 p.m. - Feb. 9, 2013, 2 a.m. at The Sinclair
(Comments)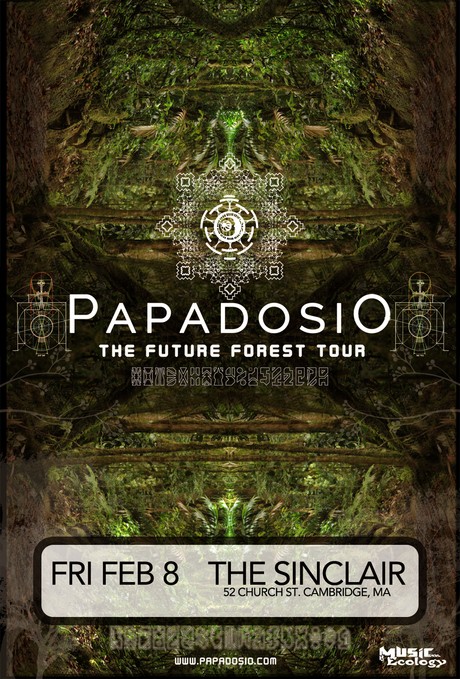 Papadosio w/ Consider the Source at The Sinclair
The Future Forest Tour
Get tickets: http://bit.ly/TjgBZX

In association with Music Ecology
http://www.musicecologyboston.com/
http://www.facebook.com/MusicEcology
https://twitter.com/music_ecology

Papadosio
http://www.papadosio.com/
http://www.facebook.com/papadosio
http://www.twitter.com/Papadosio

Formed in Athens, OH, Papadosio has been creating a home at the forefront of live electronica since 2006. With a sound defined by unexpected combinations, this quintet has wowed crowds at clubs, theaters, and festivals across the country. The bands songwriting showcases improvisational interludes and refreshing vocal harmonies with an amplified message of transcendence, unity, and universal understanding. Now hailing from Asheville, NC, Papadosio's mission is clear: to combine eclectic musical traditions with modern electronica to stir the heart and fuel the mind.


Consider the Source
http://considerthesourcemusic.com/
http://www.facebook.com/CTSmusic

Three Musicians converging on an epic plateau of sound and reflex. Three conscious minds communicating on sub-conscious levels. New York City's CONSIDER THE SOURCE is the fourth voice, produced when the trio's three distinct personalities combine forces to share their inner music freely with each other.

Toting the loaded description Sci-Fi Middle Eastern Funk, their sound is a melting pot of Middle Eastern scales, psychedelic jams, and a hard rocking rhythm section. Featuring Gabriel Marin on Fret-Less Double Neck Guitar, John Ferrara on Bass, and Justin Ahiyon on Drums/Percussion, the three musicians cite their influences as including The Bad Plus, The Mahavishnu Orchestra, King Crimson and Tool-but a major source of their musical power can be attributed to a trip the band took to India, where they studied the complex tala (rhythm) of North India, and the micro-tonal scale structure and melodic ornamentations of South India. Guitarist Gabriel Marin, recently highlighted in Guitar Player Magazine, says, "Our music combines influences from Turkish, Bulgarian, North and South Indian styles with jazz and fusion, and then we filter it through our own heavy rock and psychedelic sounds and approaches."

Over the past few years this trio has toured the United States numerous times and toured through the Middle East and Europe performing in Israel, Turkey & Germany. Consider the Source has performed alongside such luminaries as Victor Wooten, Wayne Krantz, Kris Myers (of Umphrey's McGee), Wyclef Jean (of The Fugee's), Freak Kitchen, U-Melt at Bowery Ballroom NYC, Klezmer Giant Andy Statman, Grace Potter & The Nocturnals, Garaj Mahal, Jacob Fred Jazz Odyssey, GE Smith (Saturday Night Live Band), Giant Panda Guerilla Dub Squad, The Heavy Pets, Schleigho, The Brew, Kung Fu and many others. They've appeared at numerous festivals including Burning Man, Mid Summer Meltdown, The Big Up, Dogwood Festival (NC), PowWow Festival (MD), NYC Fret-Less Guitar Fest, NYC's Howl Festival, the NY Gypsy Festival and the East Village Arts Festival. Their music has been aired nationally on Fox 5′s Fearless Music TV show, on which they won the award for best unsigned independent act.
Consider the Source's new album "That's What's Up" is a testament to the band members core beliefs & values about their art and expression. They continue forging new sounds and unique song structures, fusing foreign time signatures with exotic rhythms and refining a dialogue-based form of improvising where the rhythms are the words, the notes are the feelings and the dynamics convey the intensity. The trio has been taking this music around the world, driven by a fearless desire to be themselves and deliver their sound as honestly as they can in the pure rawness of the "moment".
2012 is already shaping up to be an epic year for the band as their schedule is already filling up with national and international tour dates and festivals. In 2012, Consider the Source goes global! Stay tuned and we'll see you out there...
The Sinclair
52 Church Street
Cambridge, MA
02138
Get Directions