Viewing events from December, 2010
Dec. 28, 2010, 10 p.m. at Wonder Bar
Come celebrate the Birthday of one of the beautiful and hard working Music Ecology promotors and founders Polina Volchek tonight with...

KiloWatts:

James Watts boasts an impressive and expansive discography of styles and collaborations that dates back to the early ...
Dec. 21, 2010, 10 p.m.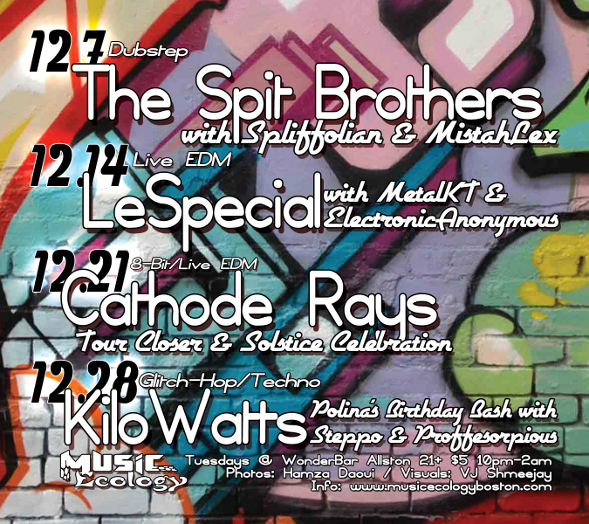 Music Ecology presents: Winter Solstice celebration w/ Cathode Rays, Lenore, MTN and much more...

This will be an epic event and I'll tell you why...

Tuesday, December 21st, 2010 is the Winter Solstice, marking the perihelion, where the orbit ...
Dec. 14, 2010, 10 p.m. at Wonder Bar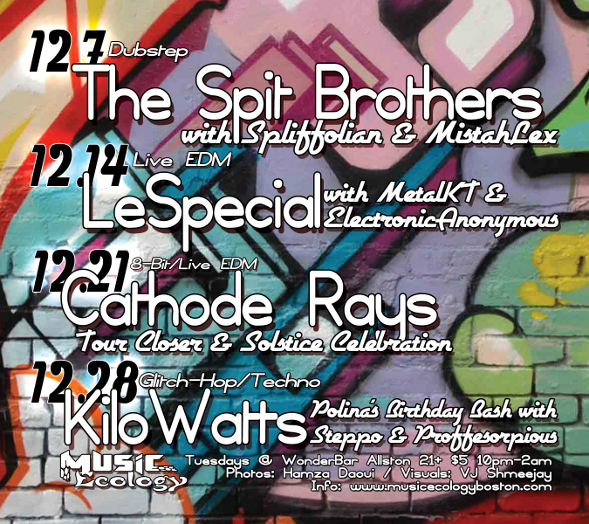 Music Ecology is proud to present another night of all original live EDM, this week with:

Lespecial (Live Band / http://www.myspace.com/lespecial)
Lespecial's sound was once described as a bus carrying Les Claypool's band crashing into ...
Dec. 8, 2010, 9 p.m.
"Music Ecology has been bringing live original electronic dance music to Boston for over a year now. Since the first Music Ecology (held downstairs at Wonder Bar in July 2009) the night has moved to the spacious upstairs at Wonder ...
Dec. 7, 2010, 10 p.m. at Wonder Bar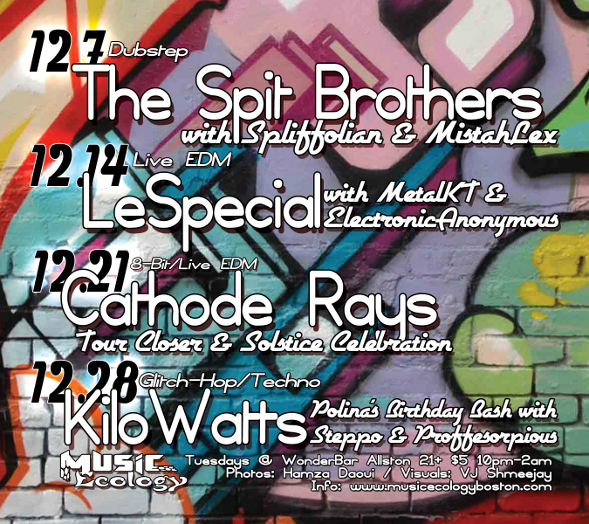 We know how much you love seeing Bakir come back to our neck of the woods and this time he is bringing some serious West coast talent with him as he introduces Boston to The Spit Brothers for the first ...