Viewing events from January, 2012
Jan. 31, 2012, 10 p.m. - Feb. 1, 2012, 2 a.m. at Wonder Bar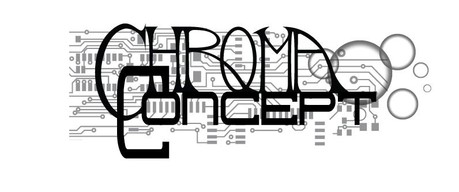 Chroma Concept is releasing their first EP and Music Ecology is proud to host their release party!

The Chroma Concept is:

Ezra Platt - Guitar/EFX
Mike Clairmont - Bass/EFX
Stefan Bildy - Drums
Joao Nogueira - Keys

The Chroma Concept was formed ...
Jan. 24, 2012, 10 p.m. - Jan. 25, 2012, 2 a.m. at Wonder Bar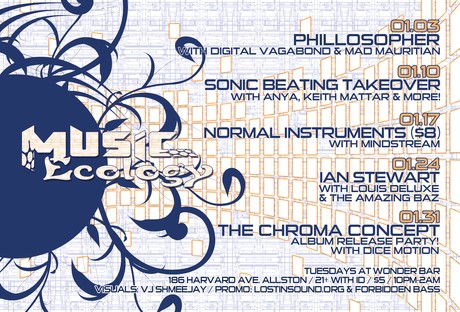 Ian Stewart is a Connecticut based producer and performer of alternative electronic dance music. Despite a background in traditional house DJing, Ian has recently made the switch to a live PA style set, allowing him to mix and manipulate his ...
Jan. 17, 2012, 10 p.m. - Jan. 18, 2012, 2 a.m. at Wonder Bar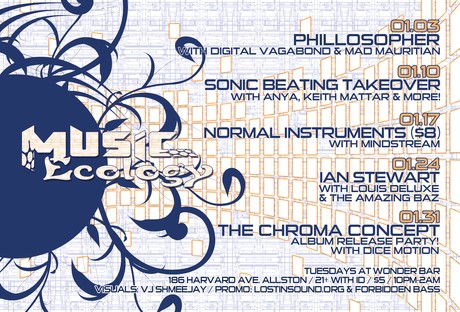 NORMAL INSTRUMENTS is the brainchild of Mike Carter, guitarist and singer from the Boston-based band, The Indobox, featuring members of Higher Organix, Cosmic Dust Bunnies and the one and only Jeff Bujak
http://soundcloud.com/normal-instruments
Mindstream is the musical ...
Jan. 10, 2012, 10 p.m. - Jan. 11, 2012, 2 a.m. at Wonder Bar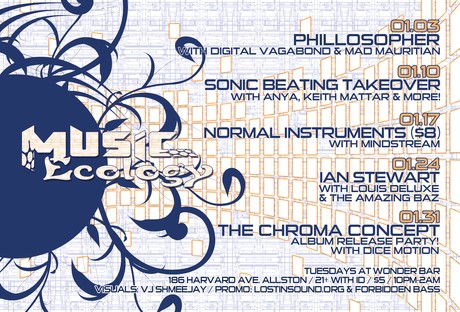 This week Music Ecology invites members of the Sonic Beating crew to flex their musical muscle at Wonder Bar.

Keith Mattar (Sonic Beating/FractalTribe, Boston)
http://www.sonicbeating.com/mp3s/Keith-January-Psyforia-2011.mp3


David Justin (Sonic Beating/Psybooty Records, Boston)
A ...
Jan. 7, 2012, 10 p.m. - Jan. 8, 2012, 2 a.m. at Machine Nightclub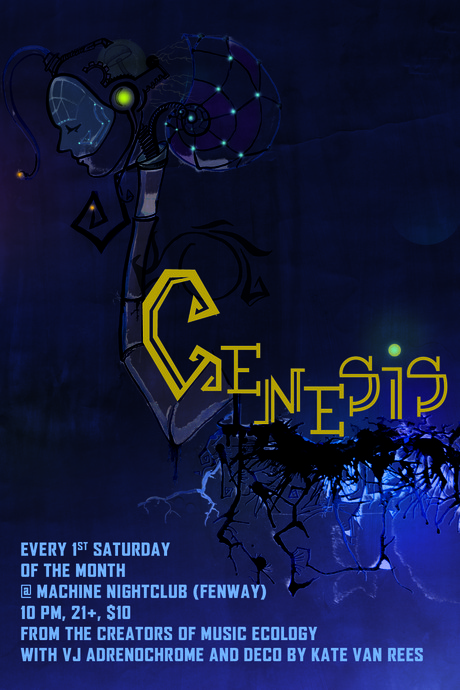 We've partied like there is no tomorrow. We prepared for all the carnage of the apocalypse. Instead we got a second chance. A chance to create a new world, to raise our faces to the sun, to breathe this ...