Viewing events from August, 2012
Aug. 28, 2012, 10 p.m. - Aug. 29, 2012, 2 a.m. at Wonder Bar
Om Unit (Surefire)
Om Unit is an electronic music producer and DJ from London.

One of many, but with a very distinctive sound, Om Unit has already captured the minds of beat fanatics with his work to date. Style-wise you ...
Aug. 21, 2012, 10 p.m. - Aug. 22, 2012, 2 a.m. at Wonder Bar
Phillosopher
Adventure through wondrous excursions within your mind. A blissful listening experience that will energize your cells and your soul. Phillosopher is a project started by Phillip Surrett : Producer\Keyboardist for Jamtronica, Started in Charleston, S.C. where there is ...
Aug. 14, 2012, 10 p.m. at Wonder Bar
Undrig
Undrig is a hot name. Being scrawled upon bathroom
mirrors by jet setting wastemen from Timbuktu to Portland Maine.
His sets are compromised of deep & thought provoking seamless autosynched blends from the beatport top 100 & youtube transcodes.

Purveyor of ...
Aug. 7, 2012, 10 p.m. - Aug. 8, 2012, 2 a.m. at Wonder Bar
Skytree
Skytree, aka Evan Snyder, started recording music at the age of 15, after the loan of a beaten Tascam tape deck cracked open the world of multi-track recording. Early "New Age" or synth-based albums by the likes of Tangerine ...
Aug. 4, 2012, 10 p.m. - Aug. 5, 2012, 2 a.m. at Machine Nightclub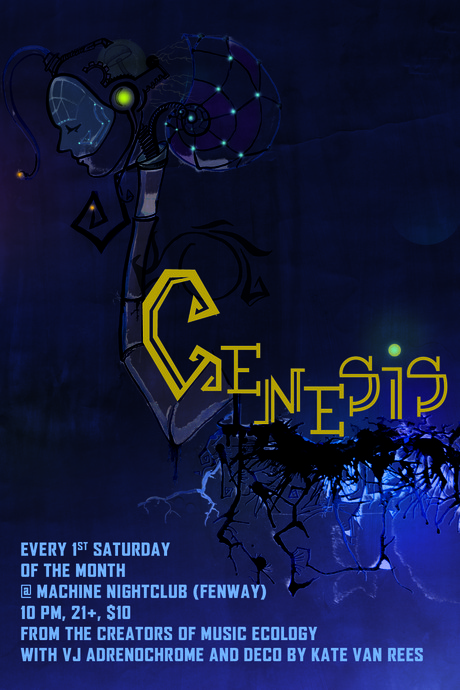 Music Ecology crew in association with VJ Adrenochrome (Projected Reality) and deco designer Kate Van Rees brings you another installment of Genesis @ Machine Boston - a unique party experience. Our musical guests this month are Wheez-ie and Doctor Jeep.

Wheez-ie
Wheez-ie ...