Viewing events from March, 2011
March 29, 2011, 10 p.m. at Wonder Bar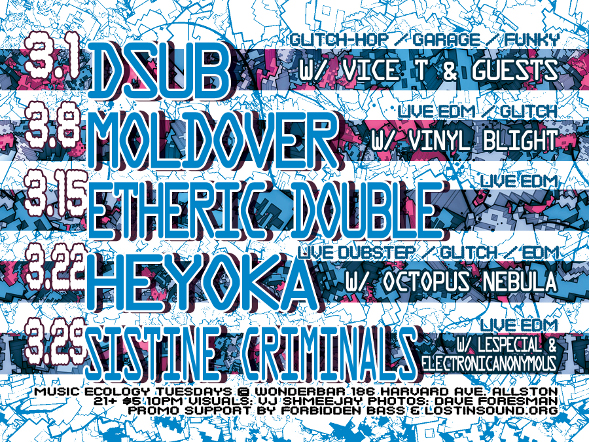 Music Ecology Presents a night of all original live EDM featuring:

Sistine Criminals (http://sistinecriminals.com/)
Originally founded in Boston in 2005 by saxophonist Aaron Burnett and drummer Greg "TORCH" Sgrulloni, Sistine Criminals is a live experience like no other ...
Phenology, an 18+ dance party at Middle East Upstairs

featuring:
Psylab (http://psylab.org/) *record release party*
Blue Boy Productions (http://blueboyproductions.net/)
Wobblesauce (http://wobblesauce.com/)
ProfessorPious (http://nerdk0r3.com/)

Come celebrate with us as Music Ecology hosts its ...
March 22, 2011, 10 p.m. at Wonder Bar
Heyoka AKA Andrei Olenev is a cosmic auditory scientist found in the Bay Area noosphere, who has been blowing minds with his sonic manipulations.
...Muti Music first released Heyoka's "Space Case EP" in 2008 and included him on their ...
March 15, 2011, 10 p.m. at Wonder Bar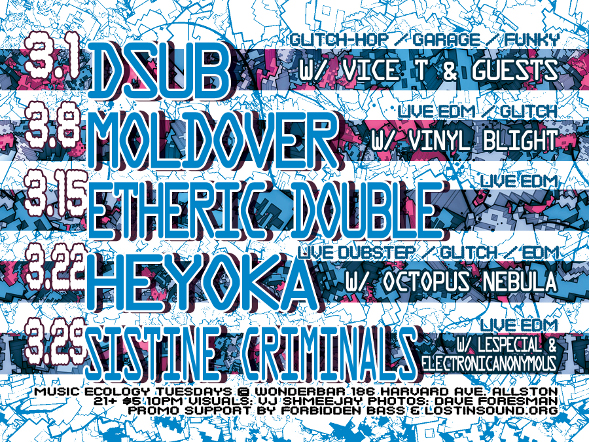 Etheric Double Soundsystem

Within the material body of all living organisms exist currents of energy called "ether", providing life and health. The flow, distribution, and storage of this energy takes place within a field that surrounds and permeates the body ...
March 8, 2011, 10 p.m. at Wonder Bar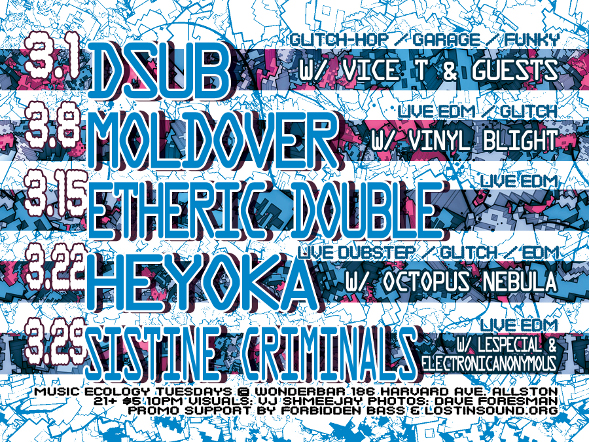 If technology and music are your life, brace yourself- Moldover is about to reformat your soul. Hailed by 700,000 YouTube viewers as "The Godfather of Controllerism", Moldover is a new breed of music icon. Combining the charisma of a ...