Viewing events from April, 2012
April 24, 2012, 10 p.m. - April 25, 2012, 2 a.m. at Wonder Bar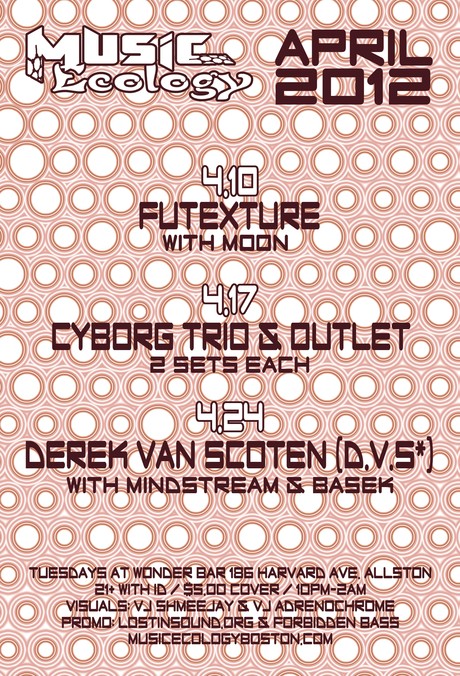 Derek VanScoten (D.V.S.*)
Derek VanScoten is a guitarist/ producer/ educator in Brooklyn, NY. He strives to create that elevated feeling in the listener's chest with his guitar-soaked experimental dance beats.

He currently has music released on Soulection ...
April 17, 2012, 10 p.m. - April 18, 2012, 2 a.m. at Wonder Bar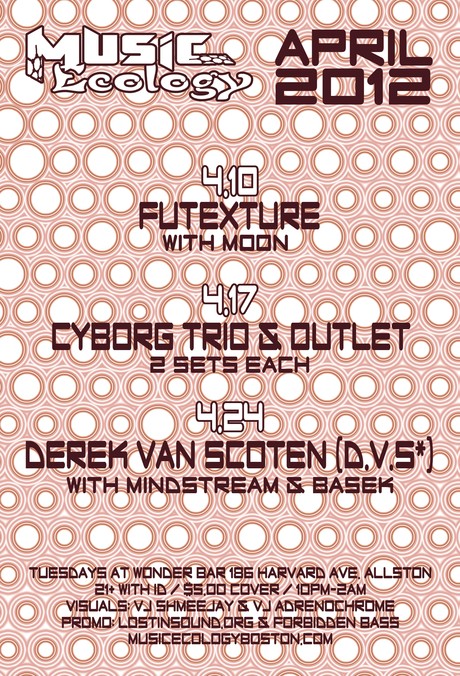 Outlet
Jonathan Belfontaine, otherwise known as Outlet, was destined to make music from the very beginning. At a young age, Jon was given a guitar. Soon afterward, he stumbled upon a broken amp, took it apart and put it back ...
April 10, 2012, 10 p.m. - April 11, 2012, 2 a.m. at Wonder Bar
Futexture is the exploration of (trans)personal experience through sound. For David Krantz, former producer of Agobi Project and 22 year old musician based out of Asheville, NC it is the logical evolution of a lifelong musical obsession.

Combining the ...
April 7, 2012, 10 p.m. - April 8, 2012, 2 a.m. at Machine Nightclub
We've partied like there is no tomorrow. We prepared for all the carnage of the apocalypse. Instead we got a second chance. A chance to create a new world, to raise our faces to the sun, to breathe this ...
April 3, 2012, 10 p.m. - April 4, 2012, 2 a.m. at Wonder Bar
Music Ecology + Elevated Arts & Ent. bring you:

BIRD OF PREY

w/ support from DSub and Music Ecology Residents

Bird of Prey is bay area native Torin Goodnight. Pursuing electronic music for over a decade, he has refined his sound and ...