Viewing events from February, 2013
Feb. 26, 2013, 10 p.m. - Feb. 27, 2013, 2 a.m. at Wonder Bar
Come wish happy birthday to the man who feeds us delicious pancakes first and then helps us shed the extra pounds in his yoga classes - Mr. Billy Gamble!

Does Jeff Bujak even need an introduction at Music Ecology? One of ...
Feb. 19, 2013, 10 p.m. - Feb. 20, 2013, 2 a.m. at Wonder Bar
Unfortunately due to circumstances beyond our control Horizon Wireless wont be joining us tonight. Luckily Zola kindly agreed to fill in.
Zola
Charles Mazzola - Together Festival / Mmmmaven / Lostinsound'
https://soundcloud.com/charlesmazzola/charles-mazzola-reset

Matt Carey


Alex Russo


10 PM - 2 ...
Feb. 14, 2013, 8 p.m. - Feb. 15, 2013, midnight at Brighton Music Hall
Download Zoogma's debut album, Recreational Vehicles, for FREE at:http://www.zoogma.net/

"...one of the freshest and most mature sounds on the circuit today. Whether you are looking for rock, dubstep, four on the floor dance beats, or ...
Feb. 12, 2013, 10 p.m. - Feb. 13, 2013, 2 a.m. at Wonder Bar
Come wish our dear friend Jessie Smeed the happiest of birthdays and dance to some wicked local EDM!

FiG (Tight Crew / Sonic Beating)


Rubix

Mad Mauritian (Music Ecology / Blue Boy Productions)


10 PM - 2 AM, 21+, $5

Music Ecology is ...
Feb. 8, 2013, 10 p.m. - Feb. 9, 2013, 2 a.m. at The Sinclair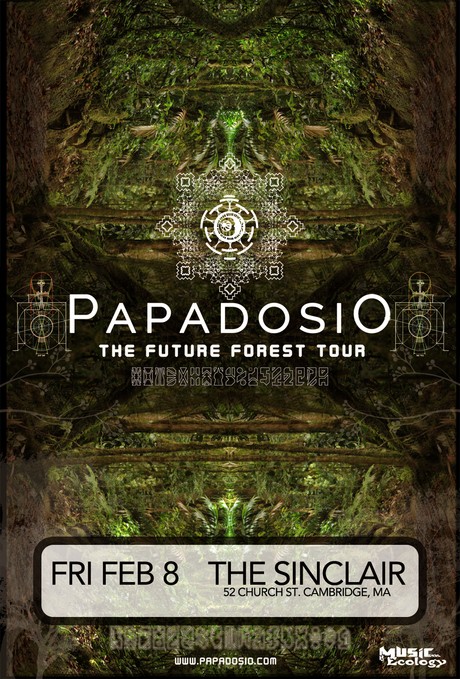 Papadosio w/ Consider the Source at The Sinclair
The Future Forest Tour
Get tickets: http://bit.ly/TjgBZX

In association with Music Ecology
http://www.musicecologyboston.com/
http://www.facebook.com/MusicEcology
https://twitter.com/music_ecology

Papadosio
http://www.papadosio ...