Viewing events from November, 2010
Nov. 30, 2010, 10 p.m. at Wonder Bar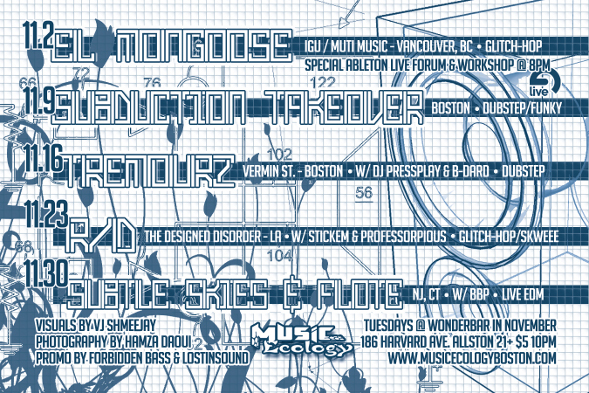 Music Ecology is proud to present another week of all original EDM, this week from:

Flote (http://www.myspace.com/tripodiproductions)
Hidden in Southern Connecticut, a buzz is quietly growing around musician/producer FLOTE's glitched out yet natural brand ...
Nov. 23, 2010, 10 p.m. at Wonder Bar
In 1999, R/D and his former DJ partner were invited to help throw a party for the closing of Perry Farrell's studio in Venice Beach, CA. They DJ'd for 6 hours, breaking only once for a debut ...
Nov. 16, 2010, 10 p.m. at Wonder Bar
Tremourz is the pseudonym for Matt Simmers: A Songwriter, engineer and producer for several electronic acts.

He is the mastering engineer for Reid Speed's PLAY ME records as well as an artist on the label. He has already had ...
Nov. 9, 2010, 10 p.m. at Wonder Bar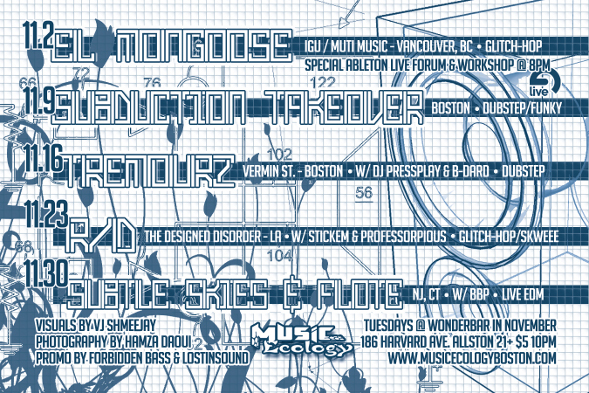 SUBduction crew coming through to you this Tuesday the 9th @ the one and only Music Ecology. If you've been to Music Eco within the past year, or if you've been hitting up any SUBduction events @ Wonder Bar, Good ...
Nov. 2, 2010, 10 p.m. at Wonder Bar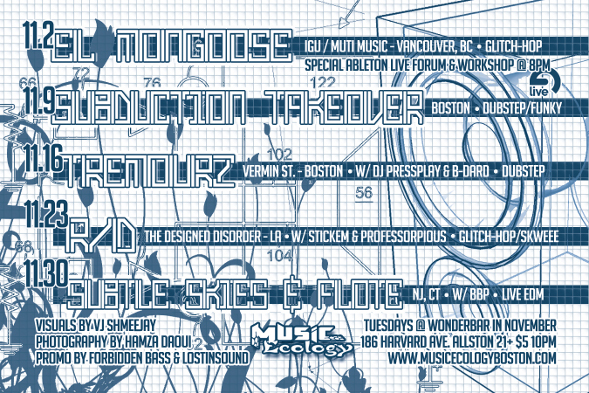 El Mongoose - Vancouver, BC (Muti Music, Woofer Cookers)

El Mongoose, one half of Glitchy & Scratchy, has been Rocking 'The Village' stage at Shambhala Music Festival this past year along with the likes of Spor, Bassnectar, and Eprom, he is certainly ...