Viewing events from June, 2011
June 28, 2011, 10 p.m. at Wonder Bar
DJ Parallax (PaRaLLaX SoUnDz, True Crew, Reloaded Records, SoulChampion, GSP Entertainment, Tight Crew)

For over a decade, DJ PARALLAX has pushed the dance music envelope with his ever evolving style. Performing for some of the most diverse crowds internationally, his ...
June 21, 2011, 10 p.m. at Wonder Bar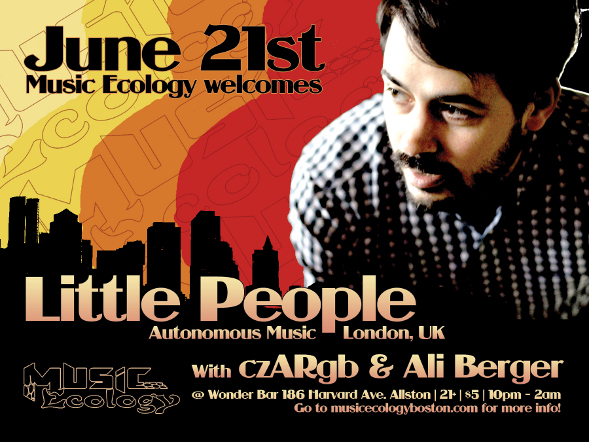 Little People

You could be forgiven for thinking that growing up in the Swiss alps in the 90′s wouldn't exactly be the best place to be exposed to some of the best underground hip hop New York had ...
June 14, 2011, 10 p.m. at Wonder Bar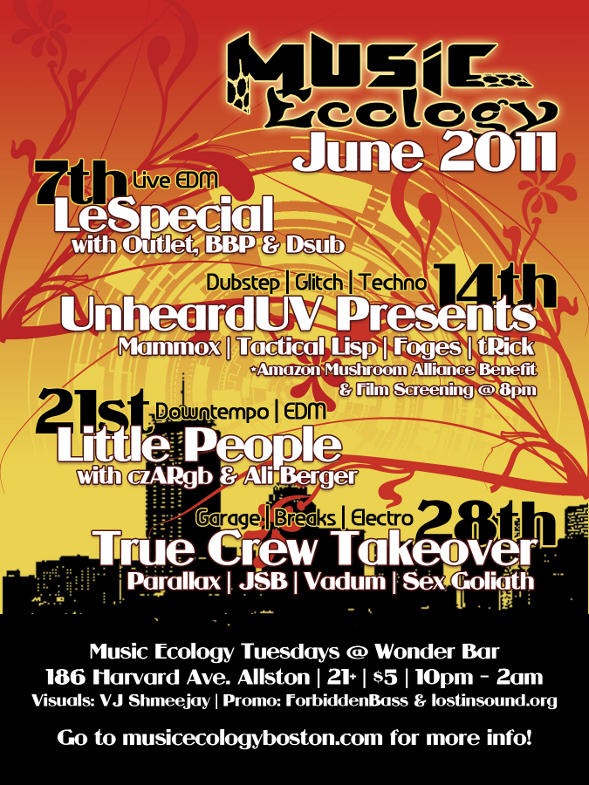 Special Announcement:
Music Ecology is proud to host an Amazon Mushroom Alliance Benefit with Evolver Boston from 8 PM - 10 PM before our regular festivities. Join us for a film screening and learn how mushrooms are being used to clean ...
June 7, 2011, 10 p.m. at Wonder Bar
Music Ecology brings you the official Uphoria Festival pre party!
Uphoria Festival will be held in Berwick, Maine, June 17-19

Enjoy three great New England based live EDM acts for just $5, and take advantage of discounted tickets to Uphoria ...