Viewing events from September, 2012
Sept. 25, 2012, 10 p.m. - Sept. 26, 2012, 2 a.m. at Wonder Bar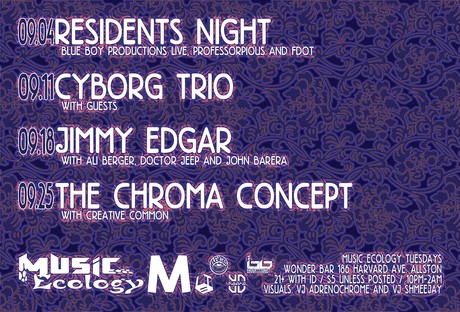 The Chroma Concept was formed shortly after New Year of 2011. They met at Berklee College of Music, where they developed their vision and honed their sound. The group seeks to combine instrumental music with electronic styles. Centered around improvisation ...
Sept. 19, 2012, 8 p.m. - Sept. 20, 2012, 11 p.m. at Royale Boston
We are happy to announce that the good folks at Bowery Boston are teaming up with Music Ecology and Elevated A & E to bring you

VibeSquaD and OPIUO Tour 2012

VibeSquaD is the multi-personality brainchild of Aaron Holstein. With releases ...
Sept. 18, 2012, 10 p.m. at Wonder Bar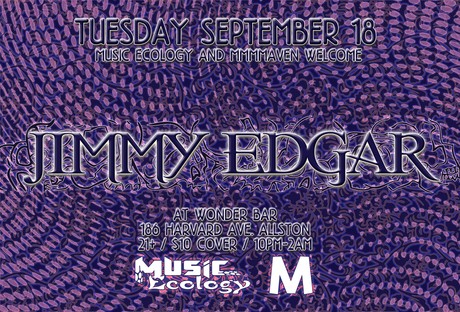 Music Ecology and Mmmmaven Present...

Jimmy Edgar (Detroit)

Lover. Fighter. Prophet. Freak magnet. Time-traveler. Musician, photographer and designer Jimmy Edgar is a wayward star-child streaking across the cosmic dance-floor. Endowed with a supernatural feel for futuristic funk, the Detroit native ...
Sept. 11, 2012, 10 p.m. - Sept. 12, 2012, 2 a.m. at Wonder Bar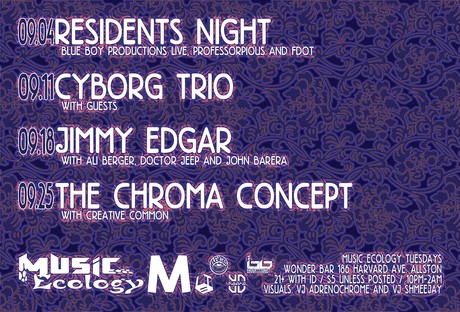 Cyborg Trio
The innovative Cyborg Trio are known for their dynamic, psychedelic improvisation and carefully crafted beats. Eric, Sammy and Tim released their fully improvised "jam" album in early 2009 and since then have been getting more exposure in both ...