Posted by: Alex Russo 6 years ago
(Comments)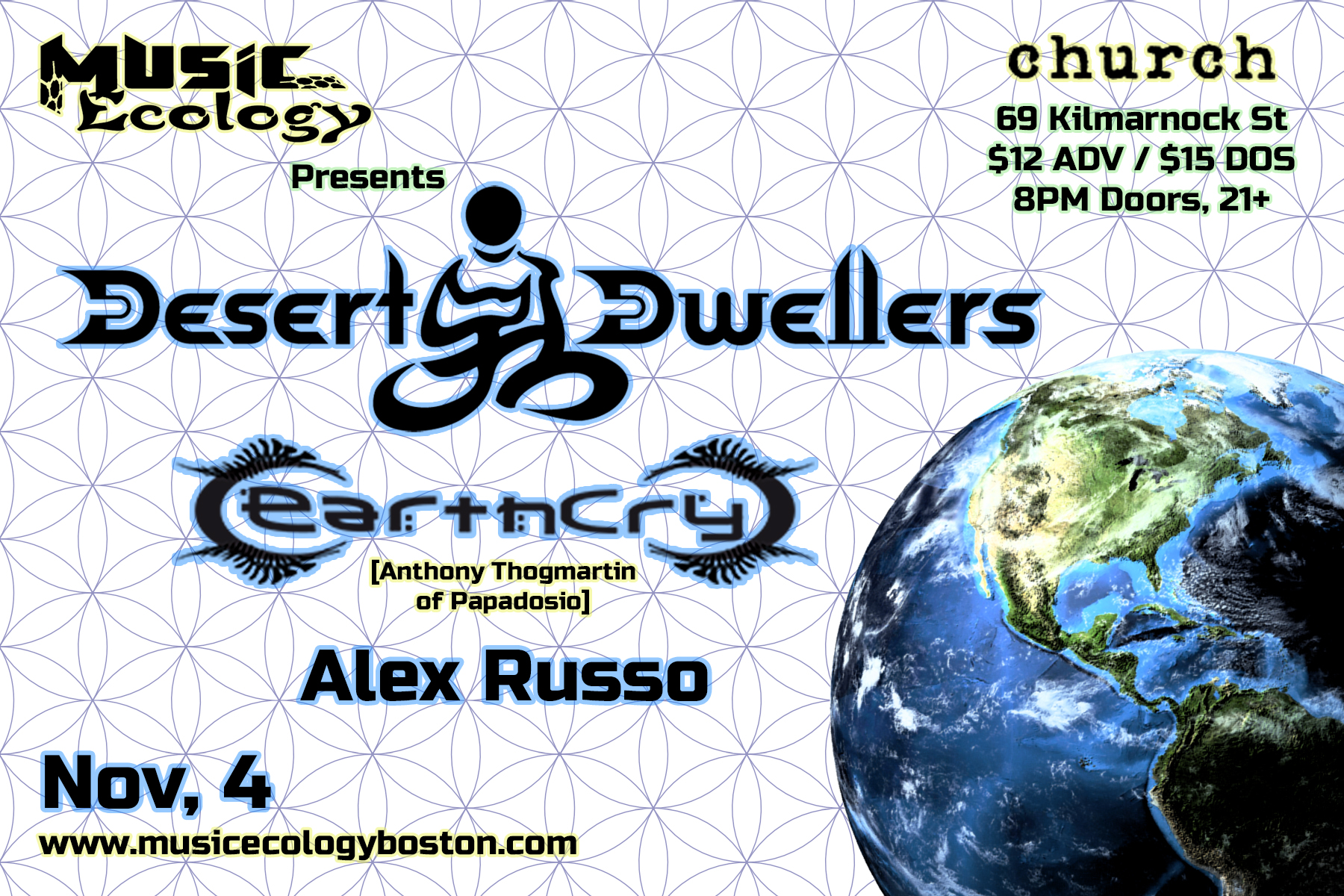 RSVP: https://www.facebook.com/events/403225263165210
Tickets: http://www.ticketfly.com/purchase/event/699059
We're excited to announce the next installment of Music Ecology: Tuesday, November, 4 at Church of Boston in Fenway featuring Desert Dwellers, EarthCry (Anthony of Papadosio), and support from yours truly!
Longtime friends Treavor Moontribe and Amani Friend came on the scene as Desert Dwellers around 2006 with their debut album DownTemple Dub: Waves. Waves meshed fat, heavy, electronic, downtempo beats with a variety of organic instruments and vocals to create a incredibly chill, lush, reflective soundscape - highly condusive to relaxation, meditation, or just vibing and tripping the fuck out! The DownTemple series went on to become widely successful and since 2006 Desert Dwellers have developed a dedicated fan community that is growing at an increasingly rapid pace. Over the last three years the duo has played major international festivals including Lightning In A Bottle, Symbiosis, Shambhala, Eclipse Festival Australia, Envision, and Sonic Bloom. Though they have their roots in downtempo chillout, the Desert Dwellers set at Great North Festival last month showed without a doubt that these dudes can bring the energy late night.
Many of you will remember catching DD opening for Shpongle a few months ago at House of Blues in Boston. We're excited to give you a rare opportunity to catch them headlining at Church of Boston in an intimate setting right as they are blowing up!
listen: https://soundcloud.com/desertdwellers
I'm also personally excited to catch my first EarthCry set. Papadosio is one of my favorite jam bands on the scene right now and catching Anthony's solo project will be a treat!
listen: https://soundcloud.com/earthcry
shameless self promotion: https://soundcloud.com/alexrusso
tickets: http://www.ticketfly.com/purchase/event/699059
21+, $12 ADV / $15 DOS